Good morning one and all. I have a few things to talk about today.
Firstly here is the third and final beaded silver 'Rosetta' pendant, newly listed in my online
Etsy shop
.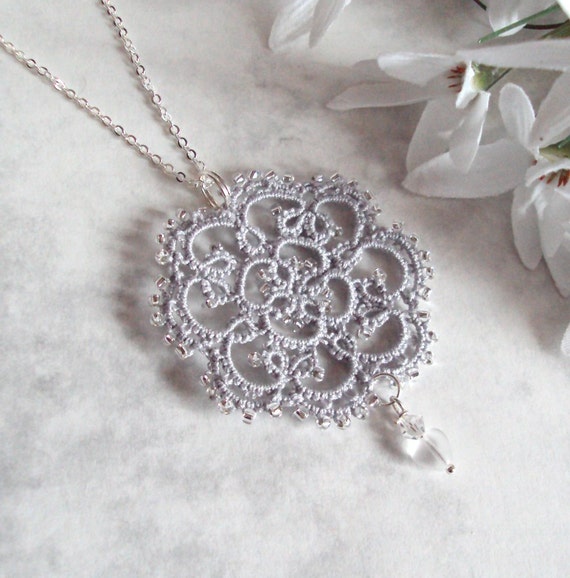 Once it's gone, it's gone so be quick!
Next: what have I been up to? Well yesterday I started tatting some bright multicoloured napkin rings - it's a new version of a design I sold last year. I will continue with them today and they may be listed by the end of the weekend. Keep your eyes peeled.
I'm also creating my next pdf tatting pattern. This one will be a bracelet. I've written down the directions and created the diagram, just need to test it now. I will try to have it listed by the end of today, if not then tomorrow. I hope you enjoy making it as much as I enjoyed designing it.
What else? As usual I'm constantly thinking up new ideas and colour schemes and I now have some things to try out. One being a pair of white and blue beaded earrings. There's also a large variegated brown mat in the pipeline.
There are other things I'm working on too but that's for another time.
Follow me on
facebook
and
twitter
for sneak peeks and perhaps even a sale (if you're quick enough ;) ).
Have a great weekend,
Heather x
Currently reading: 'Inside HBO's Game Of Thrones' by Bryan Cogman
Currently listening to: 'The Afterman: Descension' by Coheed & Cambria